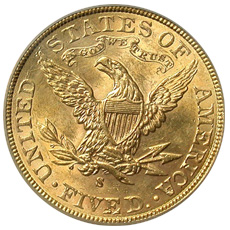 Mintages for the Liberty Head Half Eagles cover a wide range, from just a few hundred pieces for certain issues to multiple millions. This results in the series containing both great rarities and extremely common issues.
The series was produced between the years 1839 and 1908, struck at seven different mints. This included the Philadelphia Mint; the southern branch mints in Charlotte, Dahlonega, and New Orleans; and the branch mints opened in the west including San Francisco, Carson City, and Denver. The long duration of the series and the large number of mint facilities results in more than 200 different issues of the series.
Most collectors will select an approachable goal for pursuing the series such as coins from a certain date range or from a certain mint. Most broadly, the series is divided into the coins issued without the motto above the eagle on the reverse from 1839 to 1866, and the coins issued with the motto "In God We Trust" appearing from 1866 to 1908.
The lowest mintage issue of the series is the 1875 Liberty Half Eagle with only 200 pieces struck at the Philadelphia Mint. The rarest issue is the 1854-S Liberty Half Eagle, which originally had 268 pieces struck but only has three known survivors. The 1841-O had a mintage believed to be 50 pieces, although none have ever been discovered.
Liberty Half Eagle Mintage
| Issue | Mintage |
| --- | --- |
| 1839 | 118,143 |
| 1839-C | 17,205 |
| 1839-D | 18,939 |
| 1840 | 137,382 |
| 1840-C | 18,992 |
| 1840-D | 22,896 |
| 1840-O | 40,120 |
| 1841 | 15,833 |
| 1841-C | 21,467 |
| 1841-D | 29,392 |
| 1841-O | Unknown |
| 1842 | 27,578 |
| 1842-C | 27,432 |
| 1842-D | 59,608 |
| 1842-O | 16,400 |
| 1843 | 611,205 |
| 1843-C | 44,277 |
| 1843-D | 98,452 |
| 1843-O | 101,075 |
| 1844 | 340,330 |
| 1844-C | 23,631 |
| 1844-D | 88,982 |
| 1844-O | 364,600 |
| 1845 | 417,099 |
| 1845-D | 90,629 |
| 1845-O | 41,000 |
| 1846 | 395,942 |
| 1846-C | 12,995 |
| 1846-D | 80,294 |
| 1846-O | 58,000 |
| 1847 | 915,981 |
| 1847-C | 84,151 |
| 1847-D | 64,405 |
| 1847-O | 12,000 |
| 1848 | 260,775 |
| 1848-C | 64,472 |
| 1848-D | 47,465 |
| 1849 | 133,070 |
| 1849-C | 64,823 |
| 1849-D | 39,036 |
| 1850 | 64,491 |
| 1850-C | 63,591 |
| 1850-D | 43,984 |
| 1851 | 377,505 |
| 1851-C | 49,176 |
| 1851-D | 62,710 |
| 1851-O | 41,000 |
| 1852 | 573,901 |
| 1852-C | 72,574 |
| 1852-D | 91,584 |
| 1853 | 305,770 |
Issue
Mintage
1853-C
65,571
1853-D
89,678
1854
160,675
1854-C
39,283
1854-D
56,413
1854-O
46,000
1854-S
268
1855
117,098
1855-C
39,788
1855-D
22,432
1855-O
11,100
1855-S
61,000
1856
197,990
1856-C
28,457
1856-D
19,786
1856-O
10,000
1856-S
105,100
1857
98,188
1857-C
31,360
1857-D
17,046
1857-O
13,000
1857-S
87,000
1858
15,136
1858-C
38,856
1858-D
15,362
1858-S
18,600
1859
16,734
1859-C
31,847
1859-D
10,366
1859-S
13,220
1860
19,763
1860-C
14,813
1860-D
14,635
1860-S
21,200
1861
688,084
1861-C
6,879
1861-D
1,597
1861-S
18,000
1862
4,430
1862-S
9,500
1863
2,442
1863-S
17,000
1864
4,170
1864-S
3,888
1865
1,270
1865-S
27,612
1866-S
9,000
Motto Above Eagle
1866
6,700
1866-S
34,920
1867
6,870
1867-S
29,000
1868
5,700
1868-S
52,000
1869
1,760
1869-S
31,000
1870
4,000
1870-S
17,000
1870-CC
7,675
1871
3,200
1871-S
25,000
1871-CC
20,770
1872
1,660
1872-S
36,400
1872-CC
16,980
1873
112,480
1873-S
31,000
1873-CC
7,416
1874
3,488
1874-S
16,000
1874-CC
21,198
1875
200
1875-S
9,000
1875-CC
11,828
1876
1,432
1876-S
4,000
1876-CC
6,887
1877
1,132
1877-S
26,700
1877-CC
8,680
1878
131,720
1878-S
144,700
1878-CC
9,054
1879
301,920
| Issue | Mintage |
| --- | --- |
| 1879-S | 426,200 |
| 1879-CC | 17,281 |
| 1880 | 3,166,400 |
| 1880-S | 1,348,900 |
| 1880-CC | 51,017 |
| 1881 | 5,708,760 |
| 1881-S | 969,000 |
| 1881-CC | 13,886 |
| 1882 | 2,514,520 |
| 1882-S | 969,000 |
| 1882-CC | 82,817 |
| 1883 | 233,400 |
| 1883-S | 83,200 |
| 1883-CC | 12,958 |
| 1884 | 191,030 |
| 1884-S | 177,000 |
| 1884-CC | 16,402 |
| 1885 | 601,440 |
| 1885-S | 1,211,500 |
| 1886 | 388,360 |
| 1886-S | 3,268,000 |
| 1887 | Proof Only |
| 1887-S | 1,912,000 |
| 1888 | 18,201 |
| 1888-S | 293,900 |
| 1889 | 7,520 |
| 1890 | 4,240 |
| 1890-CC | 53,800 |
| 1891 | 61,360 |
| 1891-CC | 208,000 |
| 1892 | 753,480 |
| 1892-O | 10,000 |
| 1892-S | 298,400 |
| 1892-CC | 82,968 |
| 1893 | 1,528,120 |
| 1893-O | 110,000 |
| 1893-S | 224,000 |
| 1893-CC | 60,000 |
| 1894 | 957,880 |
| 1894-O | 16,600 |
| 1894-S | 55,900 |
| 1895 | 1,345,855 |
| 1895-S | 112,000 |
| 1896 | 58,960 |
| 1896-S | 155,400 |
| 1897 | 867,800 |
| 1897-S | 354,000 |
| 1898 | 633,420 |
| 1898-S | 1,397,400 |
| 1899 | 1,710,630 |
| 1899-S | 1,545,000 |
| 1900 | 1,405,500 |
| 1900-S | 329,000 |
| 1901 | 615,900 |
| 1901-S | 3,648,000 |
| 1902 | 172,400 |
| 1902-S | 939,000 |
| 1903 | 226,870 |
| 1903-S | 1,855,000 |
| 1904 | 392,000 |
| 1904-S | 97,000 |
| 1905 | 302,200 |
| 1905-S | 880,700 |
| 1906 | 348,735 |
| 1906-D | 320,000 |
| 1906-S | 598,000 |
| 1907 | 626,100 |
| 1907-D | 888,000 |
| 1908 | 421,874 |