The 1869 Liberty Half Eagle (Buy on eBay) had a mintage of 1,760 and is counted amongst the rarest issues of the series. This coin was produced during the reconstruction period following the American Civil War, which saw lower mintages for gold coins at the Philadelphia Mint.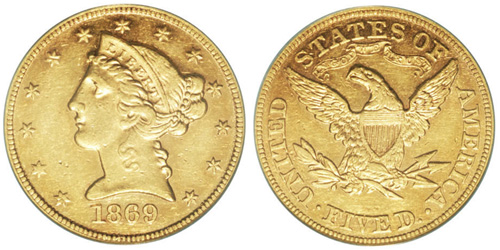 Less than 10% of the total mintage of the issue is known to have survived. Most of these fall into grades ranging from EF to AU, with only a few pieces graded mint state. One of the finest known pieces from the Harry W. Bass Jr. collection, which was graded NGC MS 64 sold for $28,750 at auction in January 2003.
The Philadelphia Mint also struck proof versions of the 1869 Half Eagle, with a total mintage of 25 pieces. Only 10 to 12 of these are estimated to have survived.
Coin Specifications
Designer: Christian Gobrecht
Composition: 90% Gold, 10% Copper
Weight: 8.359 grams
Diameter: 21.6 mm
Edge: Reeded