The 1870-CC Liberty Half Eagle (Buy on eBay) is one of the most popular coins of the series, as the first issue for the denomination struck at the Carson City Mint. Following the discovery of the Comstock Lode, the branch mint was authorized by Congress in 1863, although groundbreaking did not take place until 1866. The facility would be completed in late 1869 and operations began the following year, with gold and silver coins bearing the famous "CC" mint mark.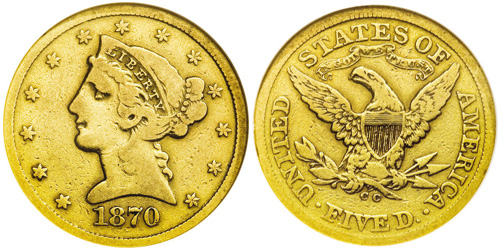 The total mintage for the 1870-CC Half Eagle was 7,675 pieces. This was not the lowest mintage among the Carson City Mint issues of the series, but it did experience the most widespread circulation. Relatively few examples managed to survive, with most of these heavily worn or exhibiting various problems. It is estimated that fewer than 100 pieces still exist across all grades, with only a handful in uncirculated grades.
One of the finest known examples graded PCGS MS-61 sold for $103,500 at auction in 2012. In more recent years, examples graded AU-58 have sold for even higher amounts.
Coin Specifications
Designer: Christian Gobrecht
Composition: 90% Gold, 10% Copper
Weight: 8.359 grams
Diameter: 21.6 mm
Edge: Reeded