Guide to U.S. Liberty Half Eagles
Spanning from 1839 to 1908, the Liberty Half Eagle was the longest running series for the five dollar gold denomination. During the course of the series, coins would be struck across seven different mint facilities, resulting in more than 200 different issues. Mintages would cover a wide range from just a few hundred to more than one million pieces. The overall series can be divided into two subtypes based on the addition of a banner with the motto IN GOD WE TRUST to the reverse design following the American Civil War.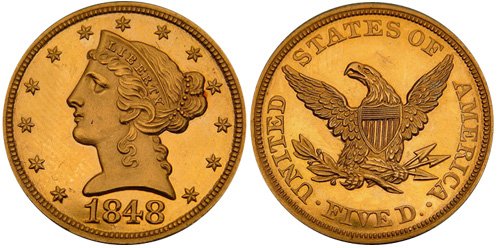 After numerous design changes, the half eagle as well as the other gold denominations would find stability in a new design created by Christian Gobrecht. He had performed work for the Mint as early as 1823, become Assistant Engraver in 1835, and finally Chief Engraver in 1840. His design for the half eagle had previously been introduced on the eagle in 1838 and would later be adopted for the quarter eagle in 1840.
The obverse design of the Liberty Half Eagle features the head of Liberty facing left. Her hair is mostly bound up in a bun with a string of beads intertwined and a few locks falling towards her neck. She wears a coronet inscribed LIBERTY. Thirteen stars appear evenly spaced surrounding the portrait with the date below.
The reverse closely resembles the previous type, which was a modified form of the design created by John Reich in 1807. A bald eagle is portrayed with its wings spread and a large shield at its breast. Its talons grasp a bundle of arrows and an olive branch. The inscription UNITED STATES OF AMERICA appears surrounding with the denomination expressed as "FIVE D." below.
Except for differences in the size of the lettering, the design for the Liberty Half Eagle remained unchanged for the first 25 years of the series. In 1866, a major change was executed on the reverse, with the addition of the motto IN GOD WE TRUST on a scroll directly above the eagle. The motto had first appeared on the two cent piece in 1864 in response to a request from Reverend Mark R. Watkinson to add a reference to God on coinage during the time of war. In the following year, an act of Congress permitted the motto to be added to all denominations which could accommodate it. For the gold denominations, the motto would be added to the half eagle, eagle, and double eagle.