The 1854-S Liberty Head Half Eagle (Buy on eBay) is an extremely rare and famous issue, struck during the first year of operations at the San Francisco Mint. From the miniscule mintage of 268 pieces, there are only four examples known to exist. All are in circulated grades.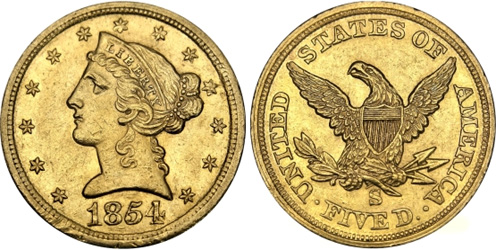 It has been suggested that the extraordinarily low mintage for this issue was the result a lack of acid needed for the refining process. An alternate theory attributes the low mintage to the preferences of bullion depositors, who generally desired smaller or larger denominations. This theory is supported by the higher mintages for gold dollars, eagles, and double eagles.
Of the four known examples of the 1854-S Liberty Half Eagle, two remain unavailable to collectors. One of the pieces resides within the Smithsonian Institution's National Numismatic Collection and another was stolen in 1967 and never recovered. The only available pieces include one example currently graded PCGS AU-58+, which passed from the Eliasberg Collection to the D. Brent Pogue Collection and eventually sold for $1,920,000 in 2020. The final example was miraculously discovered by a New England collector in 2018. The coin was graded XF-45 and sold for $2,160,000 in 2018 and $2,400,000 in 2021.
Coin Specifications
Designer: Christian Gobrecht
Composition: 90% Gold, 10% Copper
Weight: 8.359 grams
Diameter: 21.6 mm
Edge: Reeded