The 1875 Liberty Half Eagle (Buy on eBay) represents another great rarity of the series, with merely 200 pieces struck for circulation. Of this amount, it is estimated that only eight examples have survived. Collectors typically only have a chance to acquire this issue when a significant collection is broken up and sold.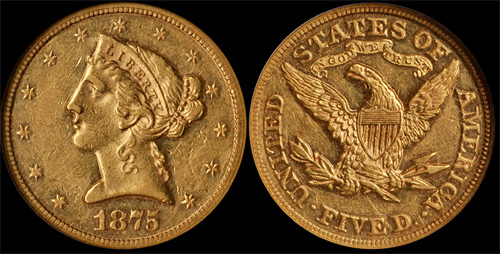 All known examples of this issue are in circulated condition, with the major grading companies having awarded grades ranging from EF-40 to AU-58. The record price for this issue is held by a coin graded AU-55, which sold for $211,500 in 2014.
The Philadelphia Mint also struck the 1875 Half Eagle in proof format. The total mintage was 20 pieces, which was within the typical range for proof gold coinage of the era. These proofs are slightly more available than the business strike, with roughly 10 examples known to exist. Although other proof Liberty Half Eagles have similar mintages and survival rates, the 1875 date enjoys a hefty premium due to the scarcity of the business strike.
Coin Specifications
Designer: Christian Gobrecht
Composition: 90% Gold, 10% Copper
Weight: 8.359 grams
Diameter: 21.6 mm
Edge: Reeded