The Philadelphia Mint struck Proof Liberty Half Eagles (Buy on eBay) throughout the course of the series. The mintages and availability vary widely, with the earlier proof dates extremely elusive. In 1887, the Philadelphia Mint did not produce coins for circulation, but struck coins in proof format only.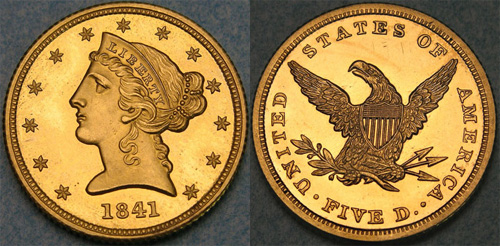 For the initial portion of the series from 1839 to 1858, proofs were struck in scant quantities with the precise mintage figures unrecorded. In most cases, only a handful of pieces may be known to exist for each date, with numerous issues unique or currently unknown.
From 1859 to 1907, proofs were struck in typically higher numbers and exact mintage figures are available. During this era, production ranged from a low of 20 pieces for multiple years to a high of 230 pieces in 1900. These mintage figures may not represent the true distribution, as the Mint would melt unsold pieces. In all cases, the total number of proof coins available for any particular date is strictly limited and all issues are considered rare.
Proof Liberty Half Eagle Mintages
| | |
| --- | --- |
| Issue | Mintage |
| 1859 | 80 |
| 1860 | 62 |
| 1861 | 66 |
| 1862 | 35 |
| 1863 | 30 |
| 1864 | 50 |
| 1865 | 25 |
| 1866 | 30 |
| 1867 | 50 |
| 1868 | 25 |
| 1869 | 25 |
| 1870 | 35 |
| 1871 | 30 |
| 1872 | 30 |
| 1873 | 25 |
| 1874 | 20 |
| 1875 | 20 |
| 1876 | 45 |
| 1877 | 20 |
| 1878 | 20 |
| 1879 | 30 |
| 1880 | 36 |
| 1881 | 42 |
| 1882 | 48 |
| 1883 | 61 |
| 1884 | 48 |
| 1885 | 66 |
| 1886 | 72 |
| 1887 | 87 |
| 1888 | 95 |
| 1889 | 45 |
| 1890 | 88 |
| 1891 | 53 |
| 1892 | 92 |
| 1893 | 77 |
| 1894 | 75 |
| 1895 | 81 |
| 1896 | 103 |
| 1897 | 83 |
| 1898 | 75 |
| 1899 | 99 |
| 1900 | 230 |
| 1901 | 140 |
| 1902 | 162 |
| 1903 | 154 |
| 1904 | 136 |
| 1905 | 108 |
| 1906 | 85 |
| 1907 | 92 |