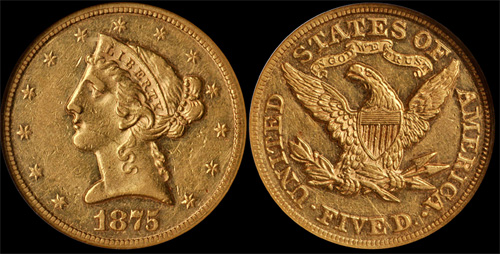 The 1875 Liberty Half Eagle is one of the legendary rarities of the series. Only 200 pieces were struck for circulation at the Philadelphia Mint and eight or fewer examples are believed to have survived. Collectors usually only have a chance to acquire this issue when a great collection is broken up or sold.
This issue is completely unknown in uncirculated grades, with the major grading companies PCGS and NGC having awarded grades ranging from EF40 to AU55. In 2004 and 2007, examples graded NGC AU 55 realized prices of $86,250 and $74,750 at auction. The same example previously sold in 2004 subsequently realized $149,500 at an auction held in November 2010. By far, this established a new price record for the issue and potentially signaled greater collector interest in the series.
The Philadelphia Mint also struck 20 examples of the 1875 Liberty Half Eagle in proof format. The total mintage was 20 pieces, which was within the typical mintage range for proof gold coinage of the era. Despite the smaller mintage, these proofs are relatively more available than the business strike, with approximately 10 examples known to exist. Although other proof Liberty Half Eagles have similar mintages and survival rates, the 1875 date enjoys a hefty premium due to the scarcity of the business strike.