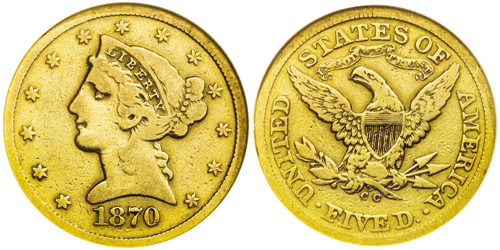 The 1870-CC Liberty Half Eagle is one of the most popular coins in the series, as the first issue struck at the famous Carson City Mint. The city had become famous and important after the Comstock Lode had been discovered in the late 1850s, meaning huge deposits of largely silver, mixed with gold. It helped Nevada to develop, and many boomtowns sprang up, often lasting only a couple of years.
The total mintage for the 1870-CC half eagle was 7,675 pieces. Although this was not the lowest mintage amongst the Carson City Mint issues of the series, it saw the most widespread circulation. Relatively few examples of the original mintage managed to survive, with most of these heavily worn or exhibiting various problems. It is estimated that 50 to 60 pieces survive across all grades.
Examples graded VF have sold for prices around $10,000. Pieces graded AU have recently sold for $30,000 or more. The finest known pieces are graded MS61 or MS62, but none of these have changed hands in recent years.