The Liberty Half Eagle designed by Christian Gobrecht was introduced in 1839 and produced until 1907. During the nearly seven decade span of the series, coins were struck at seven different operating mints, accumulating a total of 201 different issues, which range from common to ultra-rarities. With such a large number of issues, many collectors seek to collect only a portion of the series, based on certain time periods, mints, or other considerations. The possibilities are endless and can easily be adjusted to one's budget, making this a fascinating and engaging series to collect.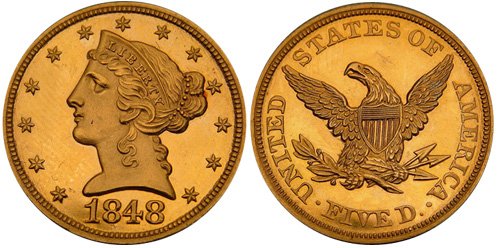 The 19th century was a period of radical change within the United States. Even when the first 40 years are dismissed, it was a period that saw America evolve from an agricultural society concentrated along the eastern seaboard to a fully fledged industrial country spread all the way from the Atlantic to the Pacific. The American monetary system during this time period was dominated by gold and silver coinage of two basic designs. The Liberty Seated design was used on the silver coinage, while the Liberty Head design was used on the gold coinage.
The obverse of the Liberty Head Half Eagle features the head of Liberty facing left. The image was possibly based on the earlier designs, but extensively revised by Gobrecht. Liberty's head was mostly bound up in a bun with a few locks falling towards her neck. The hair around her forehead and temple is braided and supports a coronet, inscribed "Liberty". Thirteen stars, evenly spaced are around, with the date below the truncation of the neck, usually in a straight line, but with some variations on different dies.
The revere design more closely resembles the previous type, which was in fact a modified form of the design introduced by John Reich in 1807. An eagle is pictured with its wings spread and its claws holding a bundle of arrows and olive branches, with a large shield placed on its breast. The inscription "United States of America" is around and the denomination expressed as "Five D." is placed below.
Except for differences in the size of the lettering, the design remained virtually unchanged for the first 25 years of the series. In 1866, a major change was executed to the reverse, with the addition of the motto "In God We Trust". The motto was placed on a scroll directly above the eagle's head, where it would remain until the end of the series.