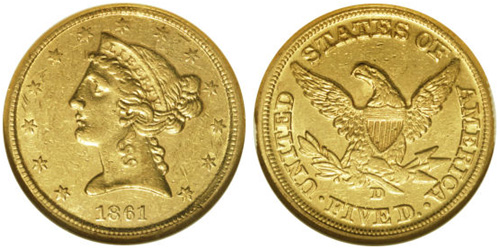 Official mint records indicate a mintage of 1,597 for the 1861-D Liberty Half Eagle, but this only tells part of the story. After this initial production, the Dahlonega Mint was seized by the Confederate government at the start of the American Civil War. Before the end of the year, a limited number of coins, estimated to be between 1,000 and 2,000 pieces, were struck by the Confederates on planchets and dies of the United States of America.
Even with the additional unknown number of coins produced, the 1861-D still represents the rarest half eagle struck at the Dahlonega Mint. It also represents the final issue from Dahlonega, since the facility was never reopened after the conclusion of the war.
It is estimated that 65 to 75 examples of the 1861-D Liberty Half Eagle survive across all grade levels, with perhaps a dozen in mint state grades. One of the finest known pieces graded PCGS MS63 with a CAC sticker sold for $207,000 at an auction held in January 2008.